Maserati SUV Overview and Trim Levels for 2023

Since the inception of the brand, Maserati has been synonymous with bespoke Italian craftsmanship and passionate performance. Inspired by race-winning sports cars and scrutinized by expert engineers in Turin, the very first Maserati SUV had lofty expectations to meet. When crafting an SUV worthy of wearing the Maserati Trident, the Levante underwent rigorous testing and countless hours of painstaking development to perfect its design. Afterward, the dynamic Grecale debuted to defy conventional thinking of what a compact SUV would be able to achieve. Eager to learn more about the Maserati SUV lineup? Joe Rizza Maserati has assembled this helpful reference guide to provide you with a look back at the history of the Levante and Grecale.
---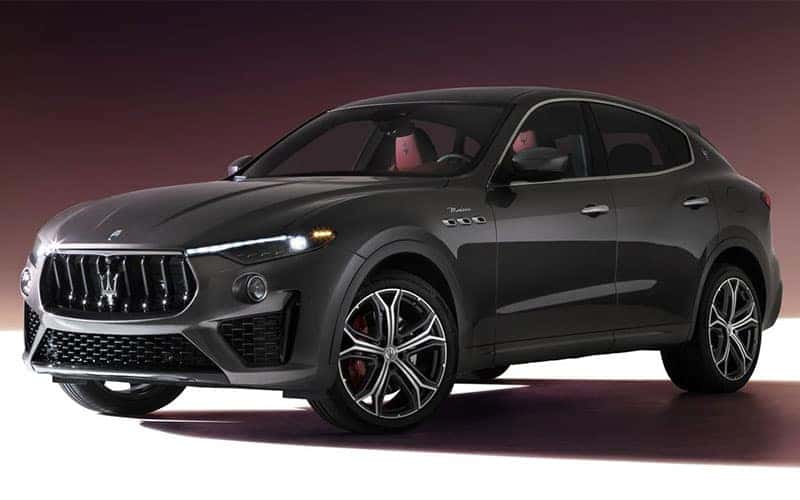 History of the Maserati SUV
The name "Levante" is derived from the Mediterranean wind that can change from calm to gale in an instant. The world's first Maserati SUV was unveiled in 2016 at the Geneva Auto Show, causing a stir among the automotive press. Its roots could be traced all the way back to the Maserati Kubang concept vehicle first released in 2011. While other luxury manufacturers had launched their version of a performance SUV, engineers worked tirelessly to ensure that all the quintessential traits of Maserati were infused into the Levante. As a result, the Maserati Levante has stayed true to the signature characteristics of the brand while simultaneously providing growth through a new entrant into the Maserati family. Another hallmark of the Maserati SUV lineup, the Levante Trofeo continues to be one of the fastest production SUVs in its class thanks to its astounding 580 horsepower and 187 MPH top speed.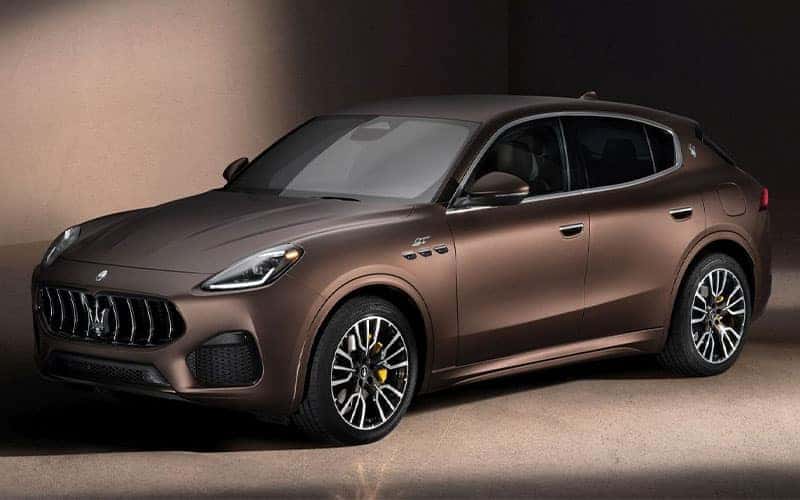 Not to be outdone by its larger sibling, the compact Maserati Grecale boasts an equally impressive lineage and development process. The name "Grecale" comes from the raucous Northeast wind of the Mediterranean Sea. The Grecale boasts a comprehensive engine lineup consisting of two turbocharged 4-cylinder engines along with a robust twin-turbo V6. In fact, the Grecale Trofeo delivers best-in-class power numbers with an incredible 523 horsepower and a top speed of 177 MPH.
Maserati Grecale Trim Levels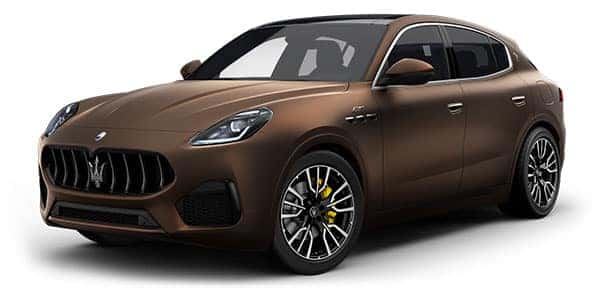 Grecale GT
Starting at $63,500 MSRP*
2.0L L4 mild-hybrid producing 296 HP
Acceleration (0-60 MPH) – 5.3 seconds
Max Speed – 149 MPH
19-inch Gloss Dark Thetis Wheels with All Season Tires
Your ticket to the Grecale lineup begins with the Grecale GT, equipped with a precision-tuned 2.0-liter mild-hybrid 4-cylinder engine that produces 296 horsepower. More agile and compact than its larger Levante sibling, the Grecale marks the beginning of an entirely new era of SUV performance. Remarkably roomy on the inside, you'll find best-in-class interior dimensions that make the Grecale a top choice for drivers with a large social circle. Iconic Italian styling helps you make an unforgettable first impression while your passengers remain impressed by the cutting-edge in-car infotainment system.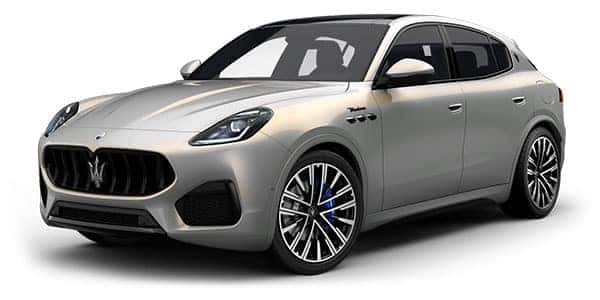 Grecale Modena
Starting at $72,900 MSRP*
2.0L L4 mild-hybrid producing 325 HP
Acceleration (0-60 MPH) – 5.0 seconds
Max Speed – 149 MPH
20-inch Machine Polished Forged Etere Staggered Wheels with All Season Tires
Next up, the Grecale Modena turns up the exhilaration with a high-performance 325-horsepower variant of the standard 2.0-liter mild-hybrid engine. In only 5 seconds, the Grecale Modena can rocket from a standstill to 60 MPH. Bold exterior colors, stylish 20-inch alloy wheels, and world-class Italian leather upholstery are three other signature attributes of the Grecale Modena. Inside, you'll find the groundbreaking Maserati Intelligent Assistant (MIA). Keeping your eyes safely on the road ahead, this infotainment system can be accessed via smart gestures.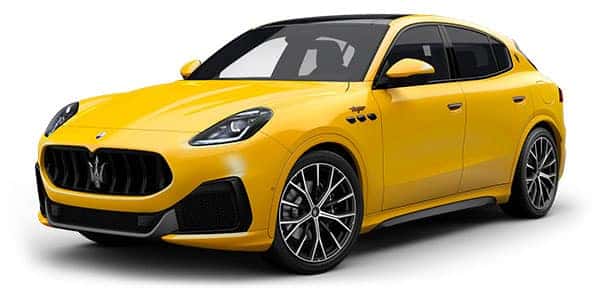 Grecale Trofeo
Starting at $102,500 MSRP*
High-performance Twin-Turbo 3.0L V6 producing 523 HP
Acceleration (0-60 MPH) – 3.6 seconds
Max Speed – 177 MPH
21-inch Matte Crio Staggered Wheels with Summer Tires
Eager to experience race-proven performance blended seamlessly with razor-sharp handling abilities? Catering to the needs of true driving enthusiasts, the Grecale Trofeo comes standard with a potent 523-horsepower high-performance twin-turbo V6 engine. An unmistakable exhaust snarl can be heard from its twin exhaust outlets at the rear, allowing the driver to enjoy the perfect soundtrack on their commute. Its race-inspired interior prominently features suede accents and thickly bolstered seats to help provide a mixture of comfort and support on spirited drives.
Maserati Levante Trim Levels
Levante GT
Starting at $87,600 MSRP*
3.0L twin-turbocharged V6 engine with 345 horsepower and 369 lb-ft torque
ZF 8-speed automatic transmission with Q4 intelligent AWD
Leather interior upholstery with heated front seats
Power-assisted steering with Speed Sensitive Feature
Power liftgate with keyless opening and available remote start
First up in the Maserati SUV trim hierarchy is the Levante GT. You'll find yourself immersed in passionate Italian performance with its standard 3.0L twin-turbocharged V6 engine producing 345 horsepower and 369 lb-ft torque. It's responsive ZF 8-speed automatic transmission provides lighting-quick shifts while the Q4 intelligent AWD system adds stability and control to all types of road surface conditions. Leather upholstery and a power liftgate are only two premium aspects of the interior that will help you enjoy every mile of your daily commute.
Levante Modena
Starting at $97,900 MSRP*
3.0L twin-turbocharged V6 engine with 424 horsepower and 429 lb-ft of torque
Upgraded full leather upholstery
Panoramic sunroof with gloss silver roof rails
Remote start via key fob
Hill Descent Control
Craving more muscle from your Maserati SUV? Stepping up to the exhilarating Levante Modena, equipped with a more powerful variant of the 3.0L twin-turbocharged V6 engine. As a result, Levante Modena models receive an impressive 424 horsepower and 429 lb-ft of torque. Other enhancements to the interior include upgraded full leather upholstery and a panoramic sunroof. A remote start system helps you pre-heat or pre-cool the interior of your Levante to match your preferences.
Levante Modena S
Starting at $123,200 MSRP*
3.0L twin-turbocharged V8 engine with 550 horsepower and 538 lb-ft of torque
20-inch dark gray staggered Efesto wheels with gloss red-painted brake calipers
Metallic exterior paint and chrome trident with blue accents
Sport seats and Inox sport pedals
14-speaker, 900-watt Harman Kardon premium audio system
Track-inspired performance meets bespoke Italian craftsmanship inside the Maserati Levante Modena S. Beneath the hood of Modena S variants is a powerful 3.8-liter twin-turbo V8 built by Ferrari, cranking out an impressive 550 horsepower and 538 lb-ft of torque. Striking a balance between comfort and support, standard sport seats help hold you in place during high-speed maneuvers. In addition, its 900-watt Harman Kardon premium audio system takes your favorite songs to the next level.
Levante Trofeo
Staring at $161,400 MSRP*
3.8L twin-turbocharged V8 engine with 580 horsepower and 538 lb-ft of torque
Pieno Fiore Natural Leather Upholstery
High Gloss Carbon Fiber Interior Trim
21-inch Machine Polished Staggered Anteo Wheels
Gloss Red Painted Brake Calipers with White Maserati Script
With an incredible power-to-weight ratio of 8.7 lbs/hp, the Levante Trofeo is able to punch above its weight. For the ultimate Maserati SUV experience, the Levante Trofeo offers a remarkable 580 horsepower and 538 lb-ft of torque along with race-inspired design cues found both inside and out. The culmination of meticulous engineering, the Maserati Levante Trofeo remains the benchmark for all luxury performance SUVs.