2023 Maserati Ghibli Specs & Model Overview with Price, Features & Photos

Ghibli
Key Features
Starting at $85,300 MSRP*
Standard V6 Twin Turbo with 345 horsepower and 369 lb-ft of torque or available V6 Twin Turbo with 424 horsepower and 428 lb-ft of torque or V8 Twin Turbo with 580 horsepower and 538 lb-ft of torque and a ZF eight-speed automatic transmission
ZF 8-speed automatic transmission with Sport Mode
Leather interior with heated front seats
Bi-xenon headlamps with integrated DRL LED lights / LED tail lamps and third brake light
Front and rear parking sensors and Rearview camera with dynamic gridlines
10.1-inch touchscreen infotainment system with voice-activated virtual assistant
10-speaker Harman Kardon® Premium Audio System (optional)
---
---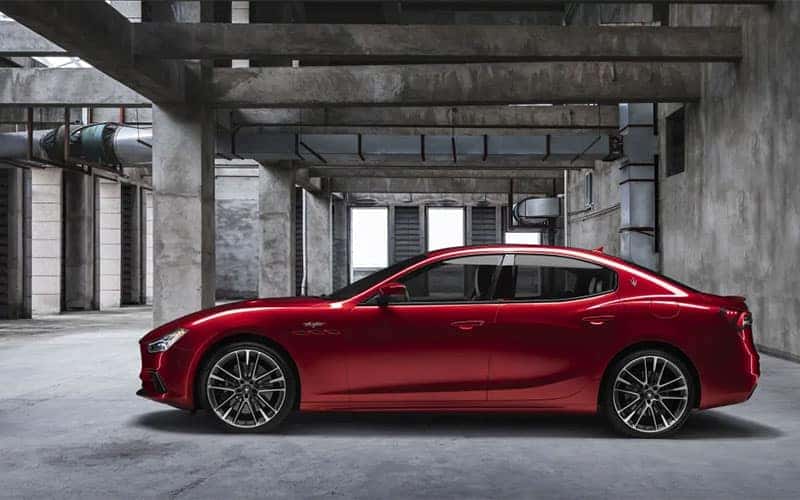 About the 2023 Maserati Ghibli
The 2023 Ghibli is the most recent chapter in the enduring and powerful legacy of the Maserati Ghibli. First offered in 1967, the Ghibli name has always been associated with nimble, powerful, roadsters. Featuring improved performance, style, and luxury, the Ghibli comes with your choice of two different V6 twin-turbo engines, or one twin-turbo V8. The standard Ghibli GT powertrain has 345 horsepower and 369 lb-ft of torque originating from behind the Ghibli's signature shark-shaped nose. The Ghibli Modena further tunes that same Ferrari-built 3.0L twin-turbo V6 engine to 424 horsepower and 428 lb-ft of torque, and delivers that power to the pavement via an 8-speed automatic transmission equipped with several driving modes to fit your every need. For those who want the ultimate in power can opt for the Trofeo, and its 3.8-liter V8. This produces 580 horsepower and 538lb-ft of torque. And like the other engine options, it comes with an 8-speed ZF automatic transmission.
The Ghibli turns heads with a signature style of sculpted curves and elegant lines. Inside, the Ghibli's cabin expresses elegant Italian style and handcrafted finishes. The Ghibli exhibits a host of technology features for both safety and comfort in the form of driving-assist technologies and premium infotainment systems. The Maserati Ghibli delivers that rare combination of elegance and power.
What the Critics Say
"Are most mid-size luxury sedans simply too businesslike and serious in their demeanor for your tastes? Well, welcome to the curvaceous and characterful Maserati Ghibli. Typically Italian in its disdain for the generic, the Ghibli is proof that a four-door sedan doesn't have to be boring." — CarBuzz
"The Ghibli's on-road demeanor is frisky, but it maintains a level of refinement that keeps it in the hunt with some of today's best luxury sport sedans." — Car & Driver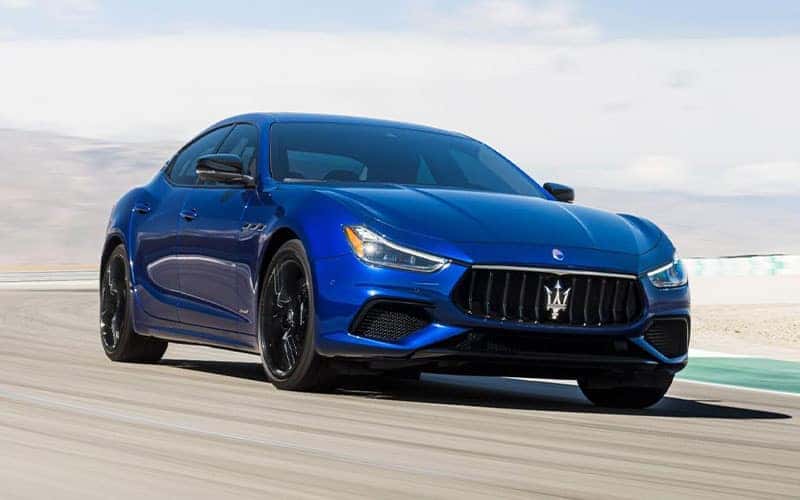 Signature Style
You know a Maserati when you see one. The Ghibli represents class as well as sportiness and can be noticed from across the street with its bold lines, signature chrome grille, and trident logo. The Ghibli gives off a coupe-esque form with frameless doors and defined rear haunches and sloping C-pillar design. In the back, the Ghibli sports quad tailpipes, two on each side, showcasing its performance capabilities before you even turn on the engine. The Ghibli is offered in three trims, the luxury-oriented Ghibli GT and the high-performance Ghibli Modena. Those demanding the ultimate in performance can select the available Maserati Ghibli Trofeo, powered by a 580 horsepower V8.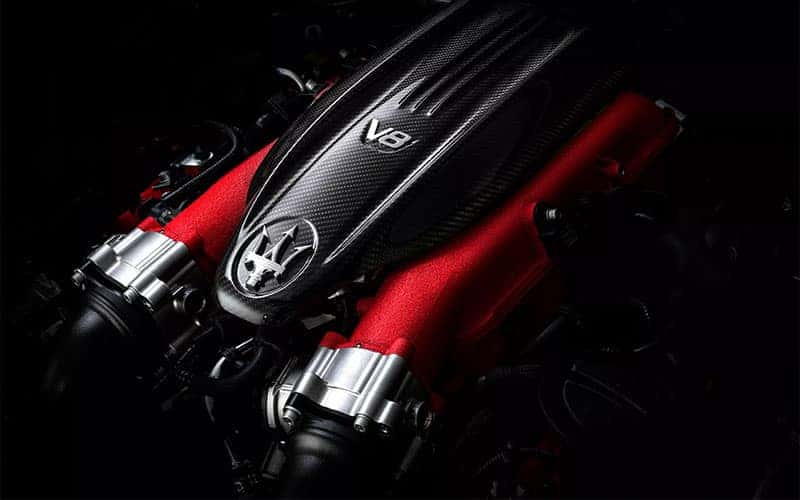 Exhilarating Performance
The Ghibli's pair of 3.0-liter, twin-turbocharged V6 engine variants deliver either a standard 345 horsepower and 369 lb-ft of torque or – in its fully-tuned version – 424 horsepower and 428 lb-ft of torque. The 3.8-liter V8 option comes with a staggering 580 horsepower and 538lb-ft of torque. An 8-speed ZF automatic transmission unleashes precision gear shifting while auto-adaptive software ideally balances performance and fuel efficiency. The Ghibli Modena Q4 trim comes standard with the Q4 Intelligent All-Wheel-Drive feature which gives better control on the road.
The transmission also offers five operating modes which allow drivers to customize the ride to suit their individual preferences.
Auto Normal Mode operates for maximum comfort and fuel consumption.
Auto Sport Mode works best for enhanced handling and gearshift engagement.
Manual Normal Mode gives the control of shifting gears over to the driver through the optional column-mounted paddle shifters.
Manual Sport Mode also leaves the control up to the driver with an array of functions to maximize performance and a more intense engine throttle.
I.C.E. (Increased Control & Efficiency) Mode gives better control during extreme weather conditions, quieting engine response, and maximizing fuel efficiency.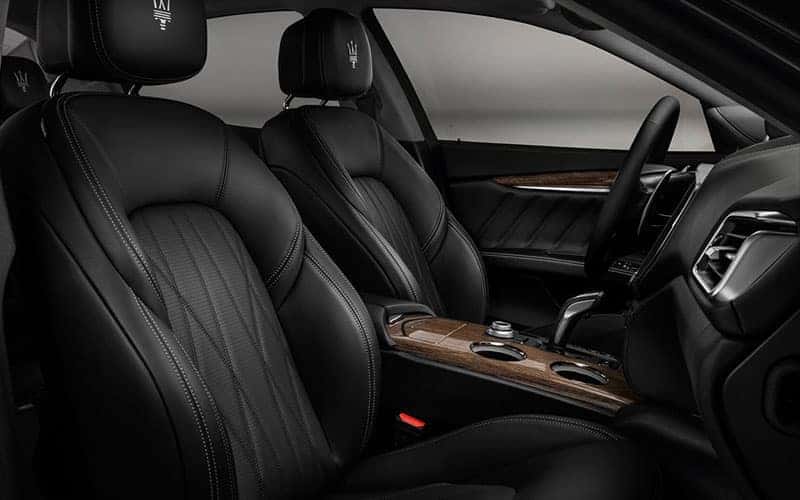 Inviting Interior
The inside of a Maserati Ghibli delivers on the promise of hand-crafted Italian design. Examples of upscale materials available inside the cabin include premium perforated leather, Pieno Fiore natural leather, or Zegna silk upholstery . The front seats have 12-way power adjustment and substantial front legroom while the 60/40 rear folding seats provide comfortable seating for three.
Personalization is at the heart of any Maserati. For those choosing to inject an added dose of style, you can include a high-gloss carbon fiber twill that accentuates Maserati's sporty roots. Or, you can choose a high-gloss Rovere veneer which combines three different woods layered and crafted in Italy for a more refined look.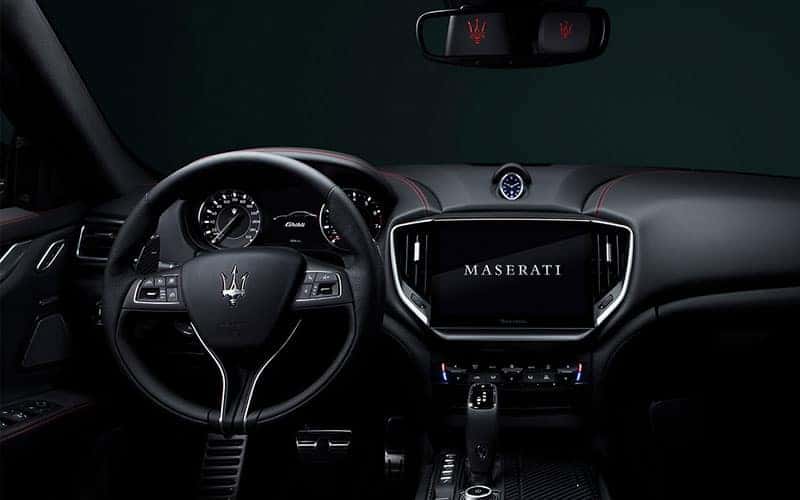 Convenient Safety and Technology
Technology remains a key strength of the Maserati Ghibli. Positioned in the center of the dashboard is an expansive 10.1-inch touchscreen infotainment system with a voice-activated virtual assistant. This screen allows you to customize the layout for easy access to your favorite multimedia. Bring your favorite songs to life with outstanding depth and clarity from your choice of a 10-speaker Harman Kardon® Premium Audio System or a 15-speaker Bowers & Wilkins Ultra-Premium Audio System. Standard Apple CarPlay®, Android Auto™, or Bluetooth® connectivity lets you enjoy your favorite smartphone functions inside the Ghibli.
The Ghibli instills driver confidence through an extensive array of safety features with an emphasis on driver-assist technologies. The Ghibli 's standard safety features include the rearview camera with dynamic gridlines as well as front and rear parking sensors when attempting to find a space. There is a suite of driver-assistance technology features to keep you safe, including adaptive cruise control, lane-departure warning with lane-keeping assist, and automatic emergency braking with pedestrian detection.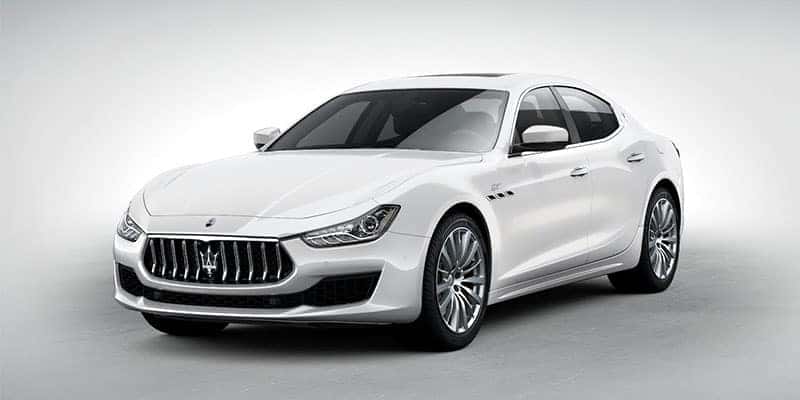 Ghibli GT
Starting at $85,300 MSRP*
3.0 liter twin-turbo V6 with 345 horsepower and 369 lb/ft of torque
Rear wheel drive
18-inch wheels
12-way power comfort front seats with 2-position driver memory
10.1 inch infotainment system with voice-activated virtual assistant
Ghibli Modena
Starting at $91,600 MSRP*
3.0 liter twin-turbo V6 with 424 horsepower and 428 lb/ft of torque
Rear wheel drive or optional all wheel drive
20-inch wheels
Wraparound front sport seats
Sport bumpers with Piano Black inserts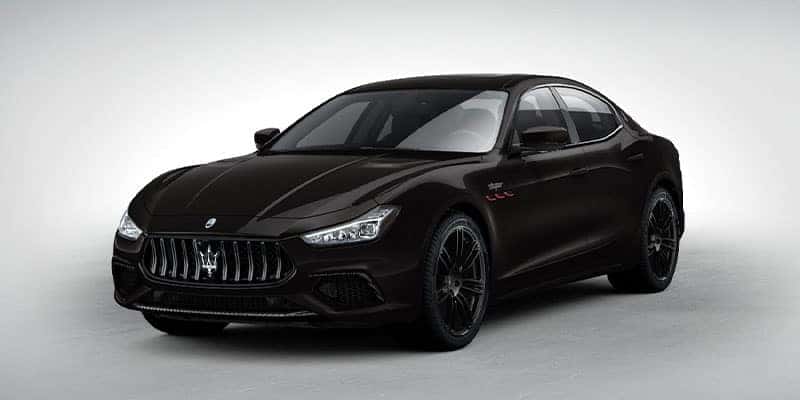 Ghibli Trofeo
Starting at $118,500 MSRP*
3.8 liter twin-turbo V8 with 580 horsepower and 538 lb/ft of torque
Rear-wheel drive
Top speed of 203mph
Optional carbon fiber interior trim
Gloss red-painted brake calipers
---
---